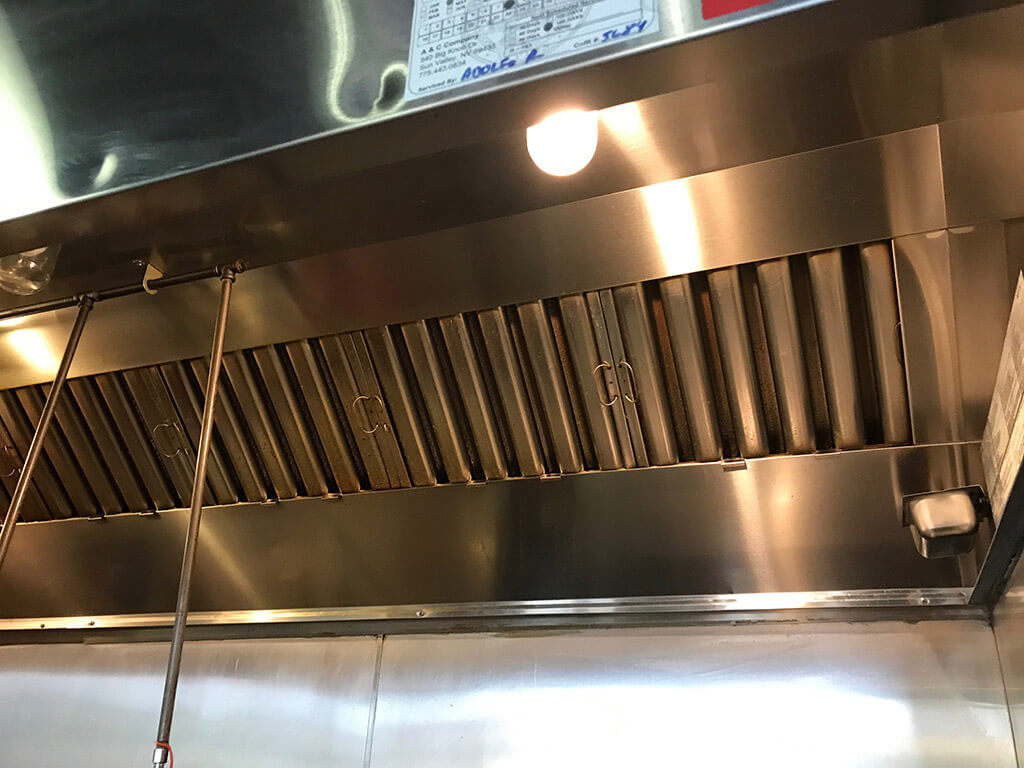 Expert Exhaust Hood Cleaning in Tampa and St. Petersburg
Are you getting close to the point where you need an exhaust hood cleaning?  If that sounds like you and your commercial kitchen is in the Tampa area, then worry no more because Tampa Hood Cleaning Pros will get you fixed up. With top of the line cleaning equipment and licensed technicians, we provide the top-level cleaning that your kitchen needs. Visit our About us page for more information.
All insurance companies, health departments, and fire marshals have requirements for regular exhaust hood cleanings for restaurants. What is considered a "regular" cleaning schedule varies based on a variety of factors, so you should contact your insurance company or local board of health to find out what your kitchen is required to do. Our general recommendation is to get an exhaust hood cleaning for grease build up every 90 days.
Clean kitchens keep your staff and your restaurant safe. Not only will it guarantee that your customers are getting the highest quality food, it will also protect your equipment from starting a grease fire or corroding.
Title: Commercial Kitchen Exhaust Hood Cleaning Has Many Benefits
Making sure that your kitchen is in line with local health regulations and your insurance policy is one of our first priorities. Our professional exhaust hood cleaning technicians will meet these requirements and that of the fire marshal. With experienced cleaners and the most amazing cleaning equipment, we get you the best clean available for exhaust hoods in the Tampa Bay area. It is our hope to help you feel confident in your kitchen.
When we work with your kitchen and staff, we are not just trying to provide the best exhaust hood cleaning, but to additionally provide your entire team with useful information. While your team cannot get the equipment deeply cleaned the way we can, there are important routine cleaning strategies they can use to maintain equipment between cleaning. Our technicians share their insights to help make sure your prepared to maintain your newly cleaned kitchen equipment.
What You Need to Know About Exhaust Hood Cleaning
Grease build ups are the cause of nasty odors, dirty up your equipment, and most importantly are insanely dangerous! Grease fires are the most common form of fire to affect commercial kitchens. This is what makes getting consistent exhaust hood cleaning so important.
Regularly scheduling an exhaust hood cleaning is the best way to avoid a grease fire, and it helps to prevent the possibility of roof corrosion that is also created by grease build up. The grease and vapors that release out from your hood exhaust eventually start to build on the roof if not cleaned professionally.
Tampa Hood Cleaning Pros will address all of these issues. With our experienced team of technicians, you will get the deep cleaning to maintain safe kitchens as well as insight into how to maintain a safe kitchen going forward. Contact us today!
We also partner with our friends in Austin TX at Pro Hood Cleaning.
Be Sure to give us a call and find out more about the best professional exhaust hood cleaning in the Tampa Bay, FL area.