Lakeland FL Hood Cleaning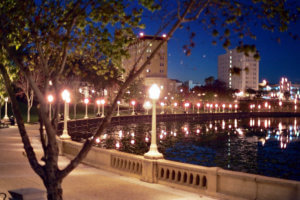 Fortunately for Lakeland restaurants, Tampa Hood Cleaning Pros has a team based right in Lakeland, Fl. Hood Cleaning is important for restaurants to meet the requirements of Lakeland Fl city health regulations, insurance company requirements, and the requirements of the Lakeland Fire Department.
Well, enough about the regulatory stuff - we want you to know why you should choose Tampa Hood Cleaning Pros.  Here it is… wait for it…  we do great work because we care!  Seriously.  When we do Lakeland hood cleaning, we're doing cleanings for restaurants where we live. These are the same restaurants that we frequent.  Whether we're in the South Lake Morton Historic District or we're down at the Circle B Bar Reserve, we dine too! And we love to be in restaurants in Lakeland that we proudly say, "these guys have an awesome kitchen". And we know it because we help to maintain that restaurant's kitchen!.
Speaking of Circle B Bar Reserve, have you been to the Polk's Nature Discovery Center?  Pretty awesome facility. Take the kids (if you have some), and check it out.  It's a great experience with plenty of hands-on exhibits.
Okay - I got away from hood cleaning Lakeland for a moment there.  Anyway, our management of our Lakeland team has over 10 years of experience as a hood cleaner and has lived in Lakeland nearly all his life.
What Does a Lakeland Hood Cleaning Cost?
This is always a tough question for a hood cleaning company to say. Restaurant kitchens can be so different.  Let me give you an example…  In general, a pizza restaurant hood cleaning is simple and does not need to be done as often as a fried chicken restaurant.  So, if it's a single story building with a flat roof and one hood fan on the roof, we could do it for less than $300. But imagine if that same pizza restaurant was in a 5 story building and the venting fan was on the roof.  Now we're dealing with over 50 feet of ductwork to clean. We could not possibly do the hood cleaning for that lower price.  But we will do it for the best price we possibly can because we know that doing high-quality work at a great/fair price is important to the profitability of your Lakeland Florida restaurant.
How Quickly Can We Get a Hood Cleaning in Lakeland?
We want to be as responsive to your immediate needs. If you're in a pinch because of Lakeland City inspections or meeting your insurance companies requirements - let us know!  We'll do our best to get you to the front of the line in our calendar.  I'm not saying that we'll move some other appointments (that would not be fair) but we will find a way to get your hood cleaning done as soon as possible. Hood Cleaning in Lakeland is easier for us to schedule because we have 2 teams in Lakeland but also if we need to, we can pull in a team from Tampa.  So, we've got you covered. We find ourselves in the downtown area and near Lake Mirror quite often - so if you call, many times we can be to your place in minutes in order to take a look and give you an accurate quote.
Can We do a Restaurant Review for your place in Lakeland?
This is a cool thing we like to do. We eat in our client's restaurants.  Loyalty and all, you know. But in addition, we discuss our dining amongst each other and then we write reviews of our favorite restaurants to help further their business.  We actually have restaurant reviews as a weekly topic in our company team meetings.  So if you have a Lakeland restaurant - we want to do reviews online for you. We post on our website, we post on Google Reviews, and we even post on Yelp.  It's really important for us to see more Lakeland restaurants do well. So we want to contribute!