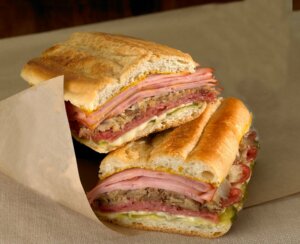 La Segunda Bakery and Cafe is located at 4015 W. Kennedy Boulevard in Ybor City, Tampa, Florida.  Juan More opened his bakery in 1915.  Born in the Catalan region of Spain, Juan grew up and fought in the Spanish-American War in Cuba.  During his tenure in Cuba, Juan discovered Cuban bread and dreamed of opening a bakery in the United States in the Cuban district of Ybor City.  
In the beginning of World War, I, Juan partnered with other cigar makers and bakers to open three bakeries.  La Segunda Bakery was one of them and when the other two closed, Juan bought out his partners interest and threw himself into his work.  He had a loyal following of customers and also had trucks deliver his Cuban bread to markets and restaurants around the country.
Juan brought his sons, Raymond, Ricardo and Anthony into the business and they eventually took over.  As the years went by, their sons Anthony and Raymond took over the business.  The bakery is run today by Anthony Albert More and his son, Anthony Copeland.  They produce 18,000 loaves of Cuban bread daily.  They have a strong four-point-six-star rating on the web with close to twenty-seven hundred reviews.
Located just fourteen miles north of Tampa, Florida is Bare Buns Cafe.  This is a unique cafe as it is a cafe located in a nudist resort on Lake Como.  The resort was founded in 1941 and became part of the American Sunbathing Association which had about 30 club nation-wide with 3,000 members.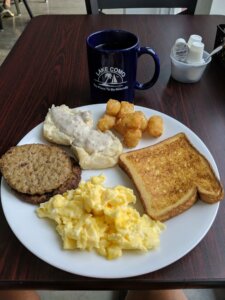 Originally called the Butt Hutt, Bare Buns Cafe started as an open-air Tiki Bar in 1980.  It was eventually enclosed, and they expanded the deck in 2010.  Home to a variety of events, there is a Corn Fest, Dare to go Bare 5K run, Super Bowl South volleyball tournament and a Veterans Day Freedom Festival.  
The resort overall is in good condition and caters to hundreds of nudists a year.  They have a rating of 4.6 stars on the internet with close to five hundred reviews.
Maple Street Biscuit Company – Carrollwood is located at 13028 N. Dale Mabry Highway in Tampa, Florida.  Not only are there seven Maple Street Biscuit Company's in Tampa there is a total of 53 throughout the United States.  
The first Maple Street Biscuit Company was opened in 2012 by Gus Evans and Scott Moore.  They have opened each store with four guiding principles:
Comfort Food with a Modern Twist
Gracious Service
Immaculately Clean Stores
Sustainable Business
T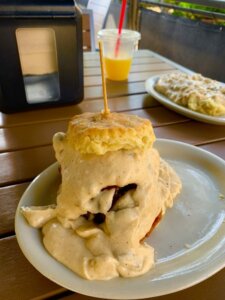 hey roast their own beans weekly in Jacksonville, Florida and ship them directly to their stores.  The beans are purchased from South and Central America.  They have close to one thousand positive posts online with a four-point-six-star rating.
Tampa Hood Cleaning Pros is happy to bring these reviews to you.  Just like all of the above companies, we are in the business to give great services to all of our clients.  We have been doing hood cleaning in Tampa, Florida and surrounding areas for years.  Our technicians are trained to the National Fire Protection Association Code 96 to ensure we follow all recommended guidelines for hood cleaning.