I like to review new restaurants because sometimes, they open and close before you ever get a chance to get there!  I try to pick three different types of restaurants so because you may not be the adventurous type and try different cuisines!  Years ago I had a business partner and we were in such a rut when going out to lunch because he was not one to try new types of food.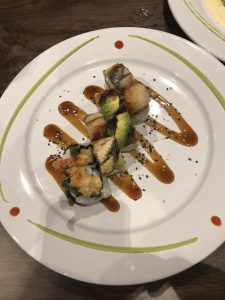 The first restaurant I picked was Samurai Blue Ybor.  They have only been open three weeks and already they have four-star reviews.   This restaurant is categorized as a sushi bar but they serve much more than that for those of you who do not like the idea of raw fish.
Located in Tampa, Florida, Samurai Blue Ybor (they have now opened another restaurant, Samurai Blue Carrollwood) serves lunch Monday thru Friday 11:30 am – 2 pm.  Dinner hours are Sunday thru Tuesday 5 pm – 11 pm, Wednesday and Thursday 5 pm – 12 am and Friday and Saturday 5 pm – 1 am.  So for you late nighters, this is a great place to catch a bite!
The menu at Samurai Blue Ybor consists of your Nigiri and Sashimi, Makimono (your rolls) as well as Hand Rolls.  The lunch and dinner menu includes Blue Crab Rangoon – Lump Crab, Cream Cheese, Scallions in a Crispy Wonton Wrapper,  Dim Sum Shumai – Bamboo Steamed Pork Dumplings, Ponzu, Soups, and Salads.  There are also Cold Starters like Ahi Tuna Tataki – sesame seared, Harusame Salad, Spicy Ponzu or Sushi Tacos – Tuna, Salmon or Kani.
I would definitely recommend giving Samurai Blue a try.  Especially if you love sushi!
Moving on to Chismis and Co. in Tampa.  This restaurant boasts the finest in Filipino food.  Their menu has enough variety for people new to Filipino cuisine and for those who are familiar with Filipino cuisine.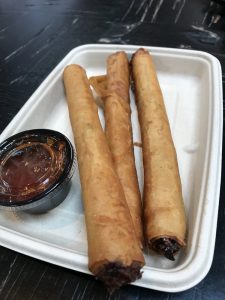 They have only been opened for two months and already rate great reviews.  From their food to their wait staff, foodies all over rave about how well they are taken care of and how great the food is.  A one of a kind in Tampa.
One of my favorite Filipino foods is lumpia.  Whenever I have been fortunate enough to have some original lumpia made, I cannot get enough.  Chismis and Co. get rave reviews for their lumpia and I so wish I was in Tampa to give it a try.
They do have a variety of Snacks like Crispy Chicken Wings tossed in calamansi caramel to Arroz Caldo which is chicken rice porridge, fried garlic, ginger, green onion, and lemon.  Maine plates include Chicken Adobo – ¼ leg slow braised in soy, vinegar, and garlic to Longanisa Sausage which is a sweet garlic pork sausage.
Chismis and Co. are open Monday thru Thursday from 11 am to 10 pm, Friday and Saturday 11 am -11 pm and Sunday 11am-9pm.  Oh, they cater too so be sure to add them to your list for events.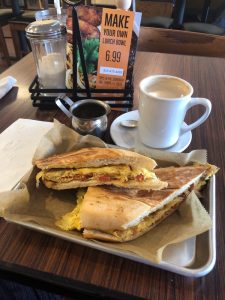 Lastly, I wanted to focus on Cuban Foodies in Tampa, FL.  They have only been opened for two weeks and get awesome reviews.  They are a family owned restaurant that serves wine and beer as well.
While Tampa does have a variety of Cuban restaurants, Cuban Foodies is committed to giving you the most authentic Cuban food in the area.  Entrees include Masas de Puerco- Fried Pork Chunks plus onions and house made mojo sauce, Ropa Vieja – Shredded beef cooked in tomato sauce plus onions and green and red peppers.  Try their Shrimp al Ajillo or Shrimp Creole – Ajello:  Sautéed with garlic wine sauce – Creole:  Sautéed in tomato sauce.
Create your own lunch bowls are offered Monday thru Friday from 11 am to 3 pm starting at $6,99 and they do have a good Kids Meal menu for the pickiest of children.
Don't forget Happy Hour from 3pm to 7pm where you can get two beers foer the price of one!
This post has been sponsored by Tampa Hood Cleaning Pros.